Enrollment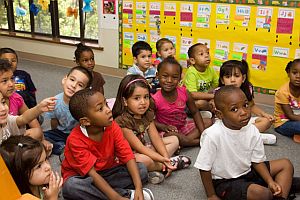 Several multi-year studies have now shown that normal childcare is detrimental to children and that comprehensive, high quality child development programs have long term benefits for children, the family and the community.
Therefore, our enrollment application is a comprehensive application and may have some questions that you may feel are personal or unnecessary. However, studies are now showing that good child development cannot occur without the in-depth day-to-day involvement of both parents, information of both parents and other family members or someone serving in those roles.
Download the Child Inc Enrollment Application

Eligibility Guidelines:


General Head Start (ages 3 – 5) and Early Head Start (ages 0 – 3) eligibility guidelines require that at least 90% of families meet federal poverty income guidelines (see link below for Federal Poverty Guidelines). This would be $22,350 for a family of four. If service space remains available after all poverty income applicants are enrolled, eligibility can be extended to families with incomes at 130% of poverty; $29,055 for a family of four.

Click Here to View the 2013 Federal Poverty Guidelines
Up to 10% of families may be over-income if special circumstances warrant enrollment. Most of these slots are filled with children with formally diagnosed disabilities.

10% of total enrollment must consist of children with formally diagnosed disabilities regardless of income.

In addition, children in foster care, Child Protective Service clients, children whose families are homeless, and families receiving TANF are eligible for enrollment in our various programs.

To qualify for FULL-DAY CENTER CARE, families must meet income guidelines and parents must be employed full-time, be full-time students (four academic courses) or enrolled in a full-time formal training program.

To qualify for HOME-BASE (In-Home) SERVICES, families must only meet income guidelines and be available to meet weekly with a teacher.

Families whose children participate in our PUBLIC SCHOOL PRE-K COLLABORATION PROGRAMS must meet income guidelines and children must be enrolled in a pre-K classroom designated each year by each participating school district. Child Inc does not determine which classrooms are designated. Parents should inquire about program availability at their respective elementary school.



To register today, contact us at 512-451-7361 to schedule an appointment or to ask any questions. We thank you for your patience.